Selecting and implementing a Warehouse Management System (WMS) is no easy feat. You know that, that's why you're reading this post, is it not? We're here to tell you that while it's not a job to be taken lightly, it is one you can do with guidance. Whether you're in the market for a new WMS because of business growth, outdated technology, or a need to optimize your warehouse operations, the selection process is the same. If you choose right, you'll help your operation stay competitive, improve efficiencies, boost customer satisfaction, and support future growth. But if you choose wrong, well, it could break your operation.
We've written a handy WMS Buyer's Guide that you can download here, or simply read below for the main takeaways.
Assess your needs
Taking the time to do ample research is one of the most important tasks you can do when searching for a WMS. Every operation will have a different set of needs, which is why simply choosing the "highest-rated" WMS isn't the way to go. They are not a one-size-fits-all system, so you want to make sure to choose the one that's right for you. You need to understand why your operation is unique and what it needs to thrive, to start by asking the right questions, here are a few to get you started:
What are the current pain points and challenges in warehouse operations?
Are there any bottlenecks or inefficiencies in the warehouse processes?
Are there any specific customer demands or expectations that need to be addressed?
How is inventory management currently handled, and are there any issues or areas for improvement?
What is the current level of order accuracy and fulfillment speed, and how can it be improved?
Be sure to also learn more about your inventory visibility needs, any safety or compliance concerns, if your communication methodology needs to be updated, and what your budget is. Determining what are mandatories versus nice-to-haves will also go a long way in helping you make a decision down the line.
WMS Selection: The Longlist
With those answers, you're ready to start looking at the various vendors out there. This initial list should be expansive, at this point, you're keeping your options open. But don't worry, this is just the beginning, the list will narrow more and more with each step to ensure you find the fit that's right for you. To create your initial list, there are several things you can do:
Consider the most recent Magic Quadrant
Poll your contacts on LinkedIn for references
Revisit providers that have served you well in the past
Consider new and upcoming thought leaders who have yet to pursue the challenge of being included in the Magic Quadrant
Consider vendors that look good at a high level and eliminate any obvious mismatches during this round.
WMS Selection: Making The Shortlist
With this initial list, you can start evaluating the vendors based on criteria that are important to your operation and eliminate the ones that don't deliver. These criteria can be varied, but we suggest:
Ability to deliver on specific business requirements
Total cost of ownership
Long-term viability
Product support
Technology: database structure, cloud VS on-premise
System Integration
Warehouse complexity
Seeing how the solutions rank based on these criteria will help you select which ones to forget, and which ones are worth selecting for an RFP. You'll want to develop an RFP with detailed requirements, both functional and technical. There are a variety of pre-written RFP templates available for free online. Use one as a starting point, but customize it for your needs. Partnering with a supply chain consultant can be very helpful in developing your RFP. We can help you with that, just reach out!
Once the RFP has all the parameters you require, it's time to send them out to your selected vendors and wait for their responses. With completed RFPs in hand, it's time to start digging deeper. RFP responses will answer a slew of questions that will help determine who is worth inviting in for a demonstration, and who isn't the right fit. We recommend using numerical ranking as you evaluate the RFPs so that vendors can be scored against each other objectively. At Cornerstone Edge, we have 18 different criteria we use to score each vendor, based on functional requirements, financial strength, installation success, and more: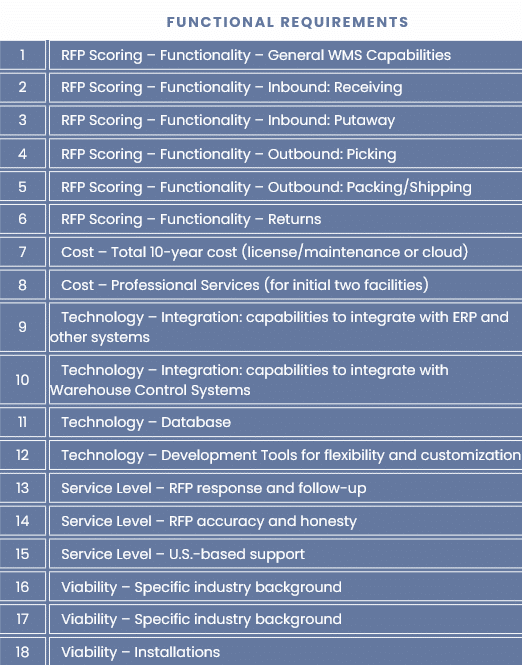 Seeing is believing
With a shortlist, you can then begin the process of live on-site demonstrations. To get the best out of this time, create a demonstration script based on the key functionalities listed in the RFP. This will allow you to see firsthand how well the vendor can deliver for each key functionality listed. Once again, weighted numerical ranking as used in the RFP will help provide an objective comparison between solutions. Ask vendors to come for a one-day, detailed, on-site demonstration.
WMS Selection: The Final Verdict
There you have it! A roadmap for selecting a WMS you can be sure is the right fit. For some of you, this upfront work is right up your alley. For others, it's a process that may seem foreign or arduous, or simply too time-consuming. No matter what, we can help! With decades of experience vetting, implementing, and assessing WMS functionality, we have the know-how needed to help you choose the WMS that will enhance your business offering without hindering your operations in the process.
Are you ready to get started? We are!
Let's talk
Want to download a copy of this white paper, you can do so here.